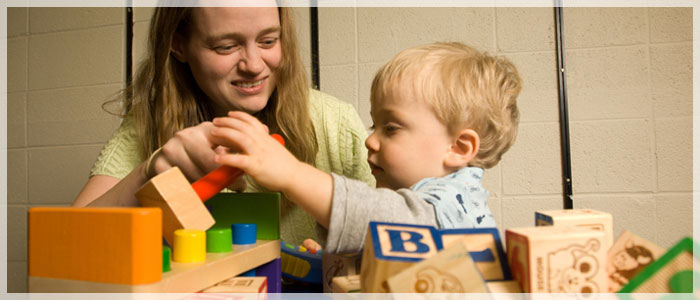 When an infant has mastered rolling over, pushing up onto hands and knees, and crawling, they will soon begin walking. During the transition from infancy to toddlerhood, your infant will be moved to the Beginner classroom where they are provided with a safe environment to explore. The timing of this move will be based on the infant's own development and the caregiver's observations, not on the infant's age.
Our Beginner program focuses on the unique needs of growth and development of the infant. Diaper changing, feeding, and other routines are viewed as vital times for communication, self discovery, and socializing. Beginners are encouraged to master feeding themselves despite the messiness that accompanies this activity. While being supportive of infants in their quest for competence, our teachers look to the parents as the best resource in working with their children. Exploring and discovering new things is an essential part of the Beginner's routine. Infants need to view the world from many angles, and are allowed that experience. This includes crawling, being carried, stroller rides, outdoor play, walking, climbing, and rocking so that various perspectives are gained.
Teacher to Child Ratio
Beginners 1:4
Age-appropriate toys, activities, and music are provided to stimulate development.
Your child receives a balance of nurturing, exploration, and playtime throughout their day to develop cognitive and motor skills.
Your child will gain self-esteem and confidence as they grow and explore new things.
You will enjoy regular communications with teachers, so that you are informed about your child's day.